Infrastructure
Playground
Casa Dei Bambini has a well-designed playground according to Montessori standard by experienced experts in the field of playground. It helps children have fun extra-curricular and helpful physical activities.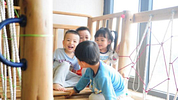 We understand what is a suitable playground to help children develop their fine motor and gross skills and improve physical health. At the same time, a complex playground made of wood helps children feel closer to the nature. It still ensures the safety for children when playing and jumping on the floor with foam padding.
Physical Room
The gymnasium is equipped with many tools look like a miniature Sasuke's room including trampolining, tunnels, climbing and swing sets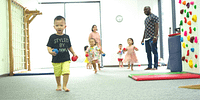 Not only bringing kids big excitements when participating in physical lessons with foreign teachers, but it's also a playground to help children release energy after school hours.

Classrooms
Casa dei Bambini classrooms are built based on the standards of a Montessori classroom.
Facilities include:
4 Montessori classrooms (3 classes for ages 3 – 6 years old, 1 class for ages 18 – 36 months)
Library
Gym stadium
Outdoor garden
Music room
Health room
Kitchen
Hygiene room
Restrooms for boys and girls

Each classroom has an area of 80-100m2, ensuring enough space for children to study and move. All classes are designed and arranged according to international Montessori standards to ensure the highest safety for kids. Each classroom consists of 6 areas: Practical Life, Sensorial, Math, Language, Culture (Geography, History, Science) and Art with a wide range of curriculum support materials appropriate to the age of kids.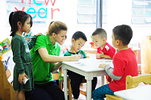 In a Montessori classroom, children are free to choose materials for their learning, while teachers will prepare an environment that provides activities appropriate to each child's development and needs. Children can work individually or in small groups to explore materials, develop their intelligence and predisposition. Each Montessori lesson plan is designed on an individual basis which is appropriate for the child's age and skills. In this way, a Montessori curriculum sets a foundation for learning for an entire lifetime and provides an ideal environment for children to learn, play and develop their talents.
Culture room
The culture room is a place where children enjoy interesting experiences and explore stories and beauties from many different cultures over the world.
At the same time, children can immerse themselves in music lessons with foreign teachers, participate in storytelling hours, or discover interesting stories by their own in the corner of library.
Montessori Materials
The Montessori Method is a child-focused educational approach that is based on scientific observations of child development. Therefore, Children are free to choose their own materials based on their own interests and capabilities.


"All areas in a Montessori classroom are relevant and supportive for the successful skill development of children.
+ Practical Life activities are the activities of everyday life and they are involved in all aspects of real life. From there, children can learn to take care of not only for themselves but also for others and how to care about others.
+ At the sensorial area, children will have the opportunity to strengthen and awake the senses and perceptions that have been formed and developed in the corner of practical life.
Besides, children can also do more creative work. Montessori sensorial materials are aimed to refine and develop senses including: visual, tactile, olfactory, auditory and visual sense.
+ Language: Language is present in all corners of the classroom. In Casa dei Bambini's classroom, children will be able to acquire and develop English and Vietnamese at the same time.
+ With concrete Montessori math materials, children can absorb mathematical concepts naturally and easily with symbols and quantity. Thereby, children can understand the basic principles of math and perform calculations easily. In addition, children develop logical thinking as working with Montessori instructors in the math corner. Children understand a calculation or shape through material experiences.
+ At cultural corner: Children are allowed to experience learning through their senses with specific objects and living models which are related to the fields of history, geography and science. Therefore, kids can understand abstract concepts in each field.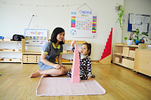 Montessori materials are always arranged in the order from easy to difficult, simple to complex, left to right, top to bottom. Thus, Montessori children will grow up in the order, autism, love as well as develop good problem solving skills.